Click to download flyer with link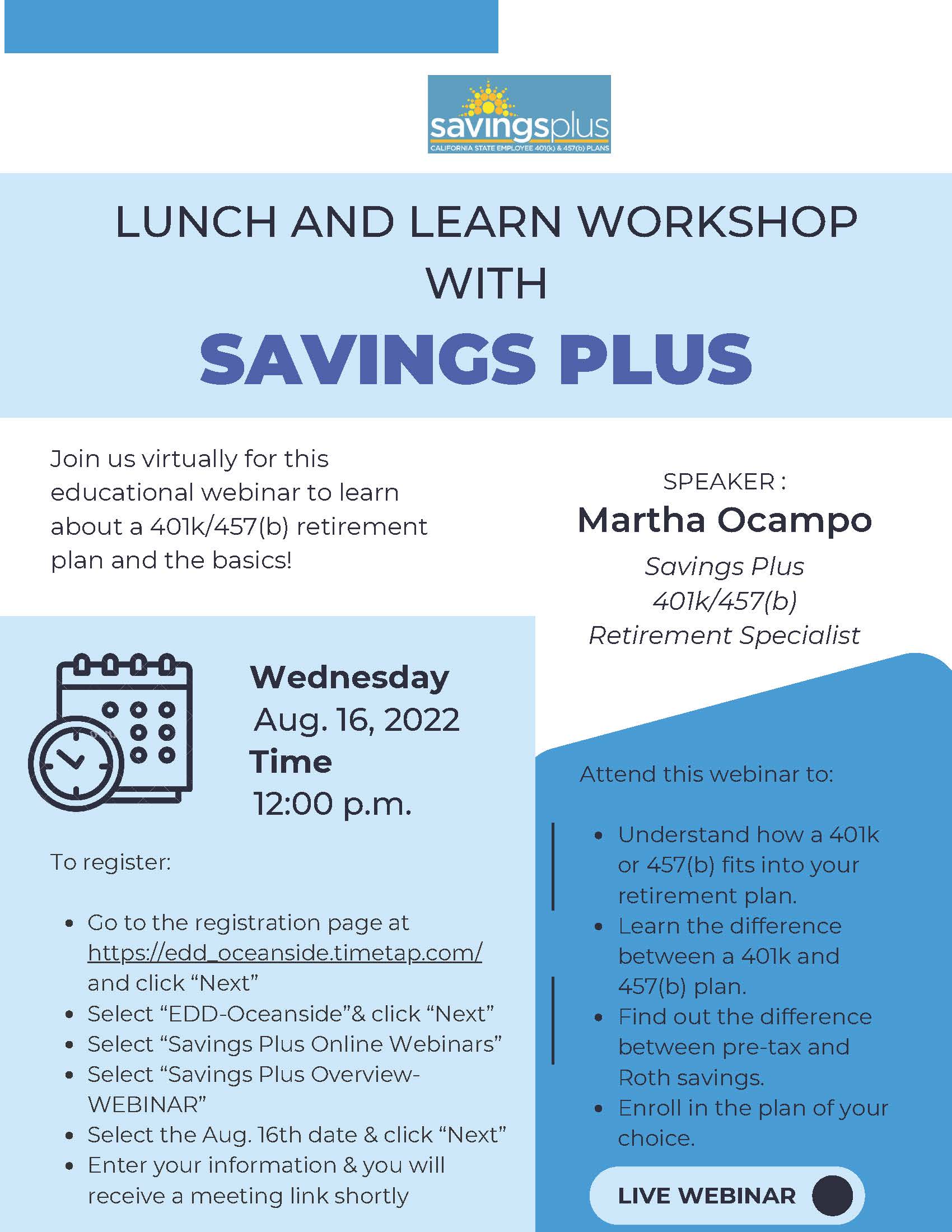 Please join the CWC Puerto Del Sol chapter for several educational webinars conducted by Martha Ocampo, our CalHR Savings Plus 401k/ 457 Retirement Specialist. These webinars will be virtual to ensure more members and staff will be able to access them in a convenient way. Everyone is encouraged to attend because its never to early to start planning and saving for retirement.
The attached document has the information for all sessions to be printed for your offices. The links below make registering easy. Please use your personal email address to receive a confirmation email with the link to join for the date(s) selected.
There's something for everyone from enrolling and getting started, increasing your contributions as you near retirement, and investing in retirement.
401k/457(b) Retirement Plan Lunch & Learn Webinars
Martha Ocampo, your CalHR Savings Plus 401k/ 457 Retirement Specialist, will be hosting educational webinars regarding 401k/ 457(b) retirement plan which can be viewed on your own computer. Attend to learn more about the basics of your plan! Scroll down for the link to register.
Enrolling in Savings Plus Webinar – Wednesday, July 27th, 2022, or Tuesday, August 16th, 2022, at Noon
Understand how a 401(k) or 457 fits into your retirement plan

Learn the difference between 401(k) and 457 Plans

Find out the difference between pre-tax and Roth savings

Enroll in the plan of your choice
Nearing Retirement Webinar- Thursday, July 28th, 2022, at Noon
Learn how to maximize deferrals in your final years of employment

Discover the tax consequences of making withdrawals in retirement

Find out why transferring out to an IRA might nullify many of the benefits of the state 401(k) and 457 Plans

Understand the different strategies of investing after retirement
Lump Sum Separation and 457 TCU Catch Up Webinar- NEW!- Tuesday, August 23rd, 2022, at Noon
Learn how to transfer Lump Sum into your Savings Plus account(s) pre-tax

Find out how to use Lump Sum with Catch-Up

See if you are eligible to double your Catch-Up contribution for up to three years in the 457(b) Plan Tuition No cost
 To register for a webinar:
https://edd_oceanside.timetap.com
**Link for webinar will be provided in confirmation and reminder email once you are registered.**
If you have specific questions on your Savings Plus account, use the link below to make a one-on-one phone appointment to speak with Martha individually. Use the link below to register for an over-the-phone appointment:
https://marthaocampo_phoneappt.myretirementappt.com
These are virtual and will not be held in person.
If you have any questions, please contact Martha Ocampo at martha.ocampo@nationwide.com.
Nationwide Retirement Specialists cannot offer investment, tax or legal advice. You should consult your own counsel before making retirement plan decisions.**