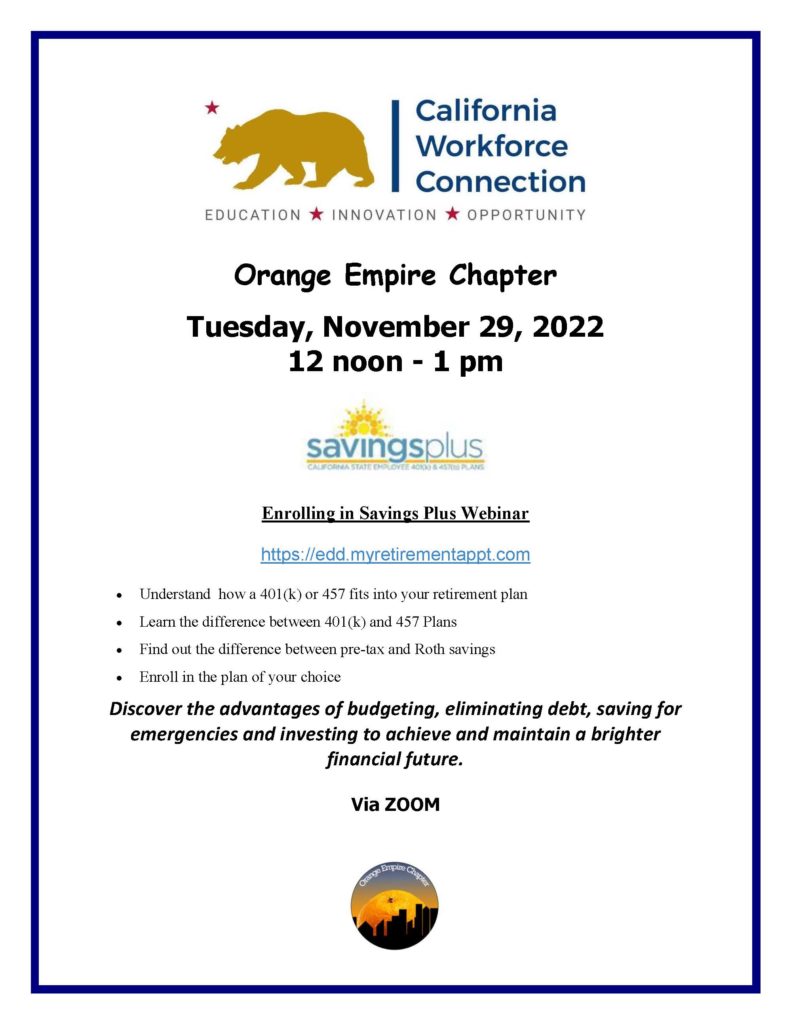 401k/457(b) Retirement Plan Webinar
Martha Ocampo, your CalHR Savings Plus 401k/ 457 Retirement Specialist, will be hosting a webinar in regards to your 401k/ 457(b) retirement plan which can be viewed on your own computer. Attend to learn more about the basics of  your plan and save more for retirement! Scroll down for the link to register.
If you have specific questions on your Savings Plus account, use the link below to make a one-on-one phone appointment to speak with Martha individually.
 Enrolling in Savings Plus Webinar – Tuesday, November 29th, 2022 at Noon
Understand how a 401(k) or 457 fits into your retirement plan
Learn the difference between 401(k) and 457 Plans
Find out the difference between pre-tax and Roth savings
Enroll in the plan of your choice
To register for a webinar:
 https://edd.myretirementappt.com
To register for an over-the-phone appointment:
https://marthaocampo_phoneappt.myretirementappt.com
**Link for webinar will be provided in confirmation and reminder email once you are registered.**
These are virtual and will not be held in person.
  If you have any questions, please contact Martha Ocampo at martha.ocampo@nationwide.com